Facility Management Today
One of the most critical parts of a business is the space they use and how it's managed. A company's real estate will impact everything from productivity to employee wellbeing. In addition, space can account for 5 to 20% of a company's total costs. The success or failure of this comes down to space management.
Still don't believe us? Today's facility manager will work with virtually every team, from HR to IT and even executives. Furthermore, space management teams influence the workplace culture and employees. In addition, facility managers deliver more intelligent buildings that meet user needs while remaining focused on core business objectives. Moreover, facilities teams must adhere to occupational health and safety standards whilst delivering value to users. However, the question remains, what is space management?
WHAT IS SPACE MANAGEMENT?
Space management is the short and long-term management of a company's physical space and its employees. Therefore, space management can be anything from managing building headcounts to implementing new ways of working. 
It falls under the umbrella of Facility Management, which aims to operate, maintain and continuously improve facilities to support core business operations.
Space management teams have one fundamental goal:
To deploy and manage efficient facilities that support user requirements in line with core business objectives and health and safety requirements.
Effective space management requires focusing on the 3 P's –" People"," Places", and" Process". 
Without planning for employee wellbeing and needs, Space Managers are failing them. This failure affects the delivery of core business objectives from higher job turnover, lower productivity, greater disengagement and absenteeism.
An organization's second-highest cost is its space (places). Therefore, a space manager's primary role is to optimize new and existing space that delivers value to its users and the organization.
The final element is" process", which concerns the horizontal and vertical integrations space managers need to gain buy-in from partners and third-party service providers. In addition, process includes the standards which enable consistency through the built environment and data.
Performance measurements across the 3 P's are vital to maintaining optimal buildings. Therefore, many methodologies capture metrics on costings, task completion and building user perception.
Built for purpose online platforms – Computer-Assisted Facility Management (CAFM) and Integrated Management Systems (IWMS) – include automation, data control, centralized visibility, communication channels and process control to support Space Management Teams.
The 3P's of Space Management
Space managers are responsible for deploying and managing office space that creates a positive response from building users while aligning with core business objectives. Categorically, focusing on the 3 P's – People, Places and Processes – enables Space Management Teams to balance facility deployment successfully.
People are the most significant contributor to an organization. They bring breath and life, shaping its goals and culture. But, people are also the highest cost to any organization. This fact does not change across size, industry or area of operation.
In today's workplace, employee requirements within a Space Manager's remit fall under the following categories: fundamental space requirements, business group-specific space requirements and people-centric space requirements.
Fulfilling these requirements enables the achievement of business objectives and improves employee wellbeing.
Fundamental Space Requirements
The Space Manager's fundamental role is to ensure that an employee or business group has the required space and assets to fulfil their work. Space planners build consistent portfolios by referencing their space standards, business hierarchy and internally created Workplace Design Principles (WDP). All of which indicate how much of and what spaces are required. Furthermore, space planners must ensure space distribution aligns with local health and safety/ fire codes. Moreover, space standards are not a "one and done" exercise; they require continuous improvement to provide the best value to your space users.
Business Group-Specific Space Requirements
Not all role functions are the same, and deploying the same cookie-cutter space saves money through economies of scale. However, the same strategy also fails the space user. For example, an accounting team will have very different needs from a customer service team. 
Space managers must plan space for a team's objectives and activities – otherwise known as Activity Based Working (ABW). ABW assumes that one space type will not fully support a user for the range of requirements their role includes. Therefore, users must access various space types that fit their activity. ABW requires constant monitoring to ensure that employees use the space and that the space types provided serve the purpose. We recommend the Plan Do Check Act framework.
People-centric Space Requirements
Workforces are diverse, with individuals and groups having unique workplace requirements. According to a study from Leesman, those aged 35-44 consistently record the lowest workplace effectiveness scores while those aged 45-54 show the highest work complexity.
Data shows those employees with the highest activity complexity have the greatest workplace infrastructure needs. In addition, this is also the group that benefits the most from environments that provide a variety of work settings that support them.
Employees are now looking for a workplace experience that blends personal needs, such as on-site daycare, cafés and gyms, with professional obligations.
To cultivate more social interactions, employers should create social gathering places at work, such as break rooms with lots of food options, seating options, music and so on,' 
Explains psychologist Wyatt Fisher. 
'The more inviting the space, the more likely it will be used.'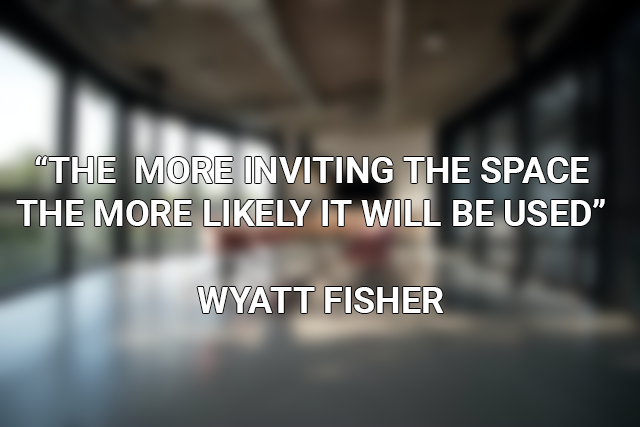 Space Managers are responsible for planning and managing their real estate, including fixed infrastructure, space design, risk management, furnishings, interior walls and environmental conditioning.
Again, the sweet spot for Space Managers is space that's positively perceived whilst encouraging achieving core business objectives.
Researchers have found that small rather than grand architectural statements increase work quality.
Productivity is affected by lighting, temperature, air quality, noise control, facilities' physical condition, and the size or configuration of space types.
Recognizing this impact, space management teams should seek more human-focused metrics. These metrics include measuring performance based on a user's perception of their surroundings or its effect on their wellbeing. However, human-focused metrics adoption is slow. For example, in 2012, 95% of Space Managers believed that the workplace impacts employee productivity, yet only 30% measured its impact.
Today's facility manager needs to view space as a product and service and treat employees as customers.
Global organizations have dozens of internal and third-party teams contributing to operational and strategic management, requiring visibility, accountability and synced communications.
Again, partnerships between space managers, HR, IT, Security, and the board must be built and managed. There are a lot of spinning plates to keep facilities running. 
When defining space types, organizations have a range of space standards – MSCI, BOMA, and RICS. In addition, organizations can create their standards.
Furthermore, organizations generally define business hierarchies but typically have 5-6 layers starting with defining cost centres. In addition to Space Standards and Business Hierarchies for managing property and driving data quality, organizations define their Workplace Design Principles (WDP).
Essentially, WDP is a reflection of an organization's Corporate Identity. WDPs enable Space Teams to maintain approved branding touchpoints according to space type (board room vs a workstation) and personnel (level of seniority or clearance for assets based on individual or role-specific need).
Typically, organizations employ facility management software which houses this information and automates administrative tasks. Facility management software is an integrated management system that focuses on managing physical space. This includes occupancy, health and safety compliance, move management, asset tracking, Planned Preventative Maintenance (PPM), etc. For more information, check out our guide to facility management software.