Hybrid working is a way of working involving both working remotely and in an office. The hybrid working model allows employees to have the flexibility to work from home or any location outside of the office.
However, employees can communicate and collaborate with their colleagues in person if needed. Hybrid working also allows organizations to reduce their real estate as their need less workspace for employees.
What Should My Business Do?
This is a difficult question. It depends on what industry you're in, the preferences of your staff, the company culture, and how your business operates. However, Data indicates that hybrid working is popular, as two-thirds of desks are unused, suggesting it won't disappear soon.
So what should you do? Data suggests that businesses with hybrid working policies have higher attendance than those without, but this difference is marginal. Hybrid working arrangements usually follow a required two or three days in the office rule. Monday and Friday are remote days, and Tuesday to Thursday are in the office.
Ultimately, it comes down to what business you're in; the Banking sector operates in the office more than Tech businesses. Next, what your departments need; Traders will need access to specific infrastructure more than a marketing team. Lastly, what goals your company has?
The Benefits of Hybrid Working
Hybrid working can positively impact both the productivity and well-being of employees. Here are just a few of the many advantages of this work model.
1. Increased productivity
When employees have the flexibility to work where they like, they can create a work environment that suits their needs. In addition, doing so can lead to fewer distractions and interruptions, allowing them to focus on their tasks.
Also, remote work allows employees to work outside of regular business hours, which benefits those with busy lives. Employees can then work when they are most productive and avoid office distractions.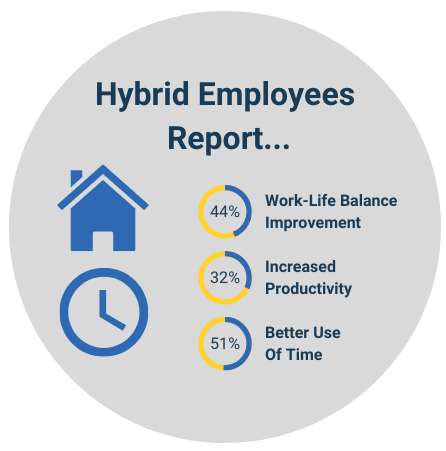 2. Improved work-life balance
Employees can balance their work and personal lives better by working remotely. For example, Working from home reduces commute time and stress, leaving more time for family and hobbies.
In addition, giving employees control reduces stress from juggling work and family, which can improve mental health.
3. Reduced costs and environmental impact
Hybrid working can provide significant cost savings and environmental benefits for organizations. For example, working remotely can reduce the need for physical office space and related costs, such as utilities and maintenance.
Furthermore, remote work can also help to reduce the environmental impact of commuting. Not only can organizations save money, but they also help to support sustainability efforts and reduce their carbon footprint.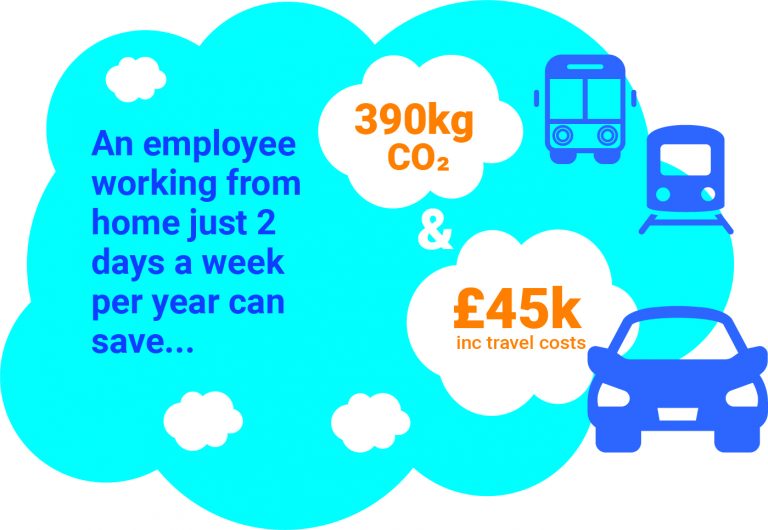 4. Improved employee retention and recruitment
With the flexibility and work-life balance it offers, hybrid working can be a big incentive for employees.
Furthermore, location no longer limits the pool of potential employees. With the rise of remote workers and the ability to work from anywhere, businesses can recruit from anywhere.
Hybrid working can give organizations a competitive edge, leading to improved performance and success.
Hybrid workers also report increases in job satisfaction. For example, remote workers are more likely to find their job more pleasurable and stimulating.
In addition, higher job satisfaction among hybrid workers stems from their increased control over when and where they work.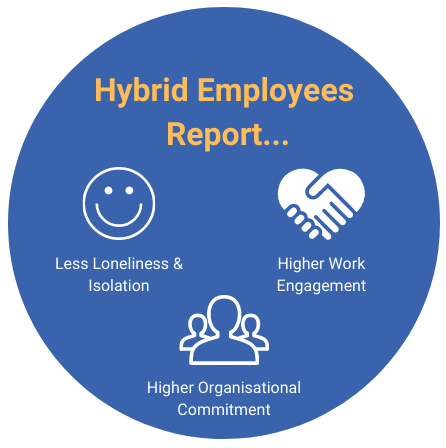 In conclusion, hybrid working offers numerous benefits for both employees and organizations. Whether or not your business implements hybrid working depends on factors like industry, company culture and business goals.
Hybrid working is here to stay, so not offering it could hurt your business.